MotoGP: Sprint Race Results From COTA, With Photos (Updated) – Roadracing World Magazine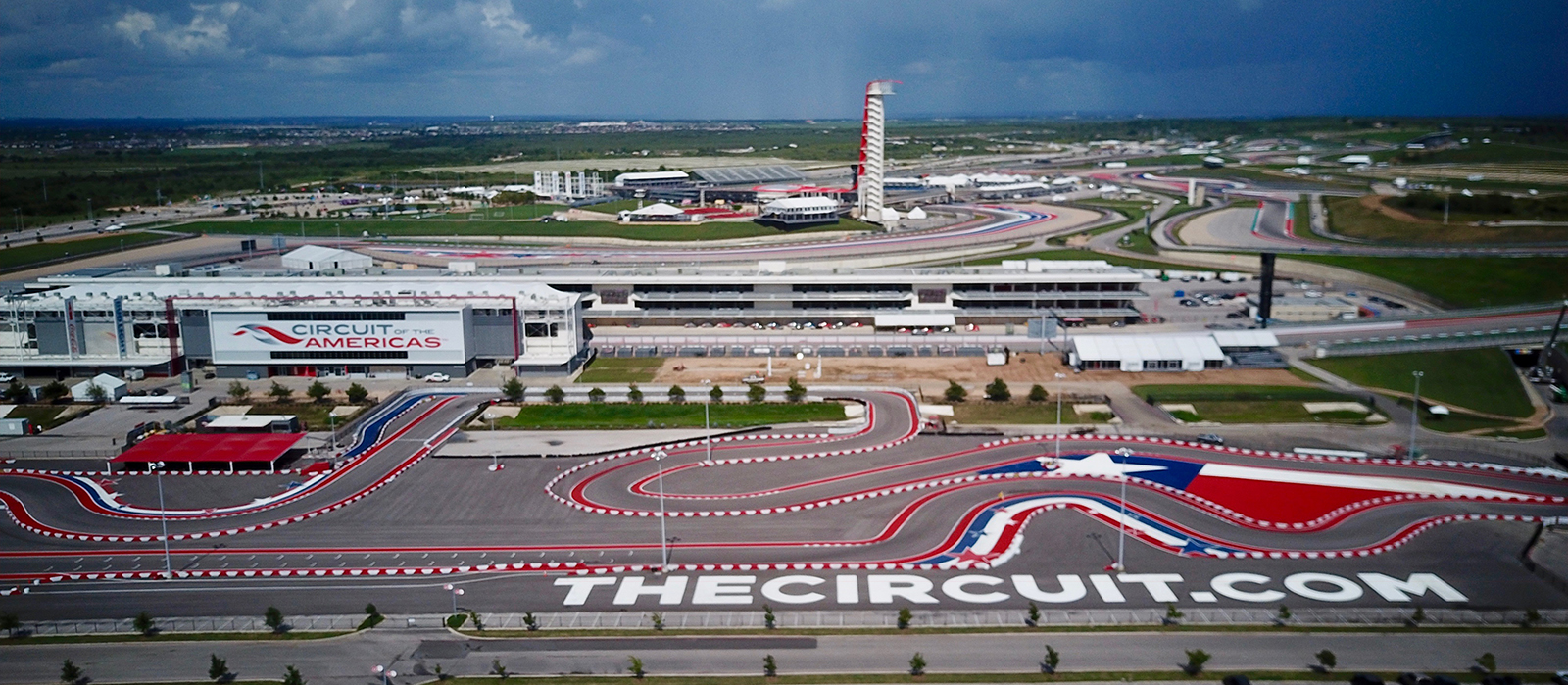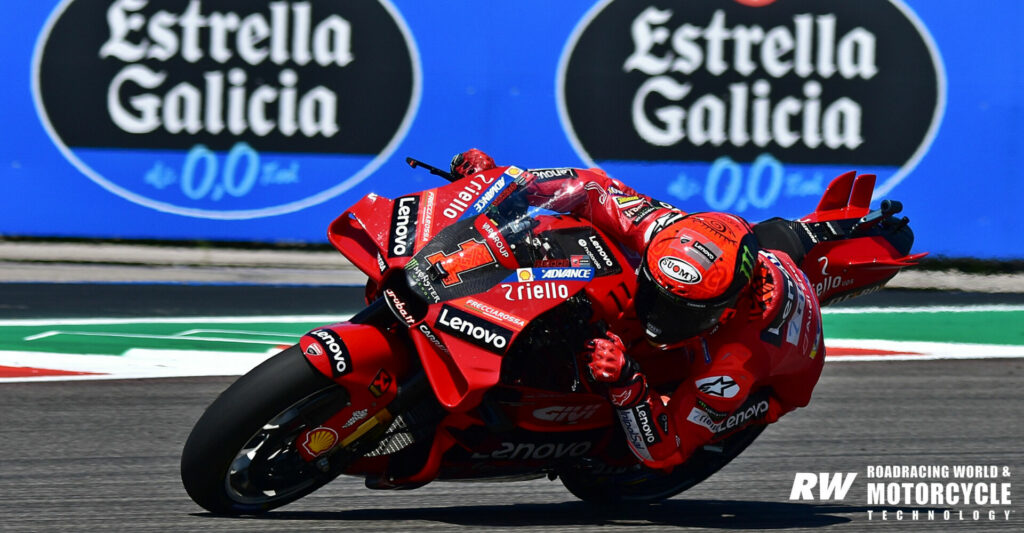 Defending World Champion Francesco Bagnaia, riding his Lenovo Ducati Desmosedici, won the MotoGP Sprint race Saturday at Circuit of The Americas (COTA), in Austin, Texas.
Alex Rins finished second on his LCR Honda RC213V.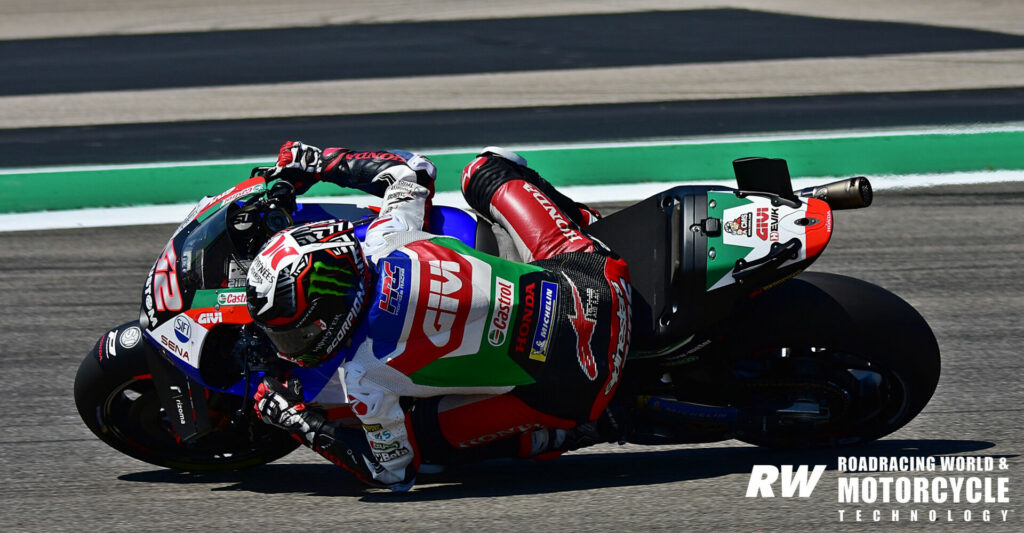 Jorge Martin placed third on his Prima Pramac Racing Ducati.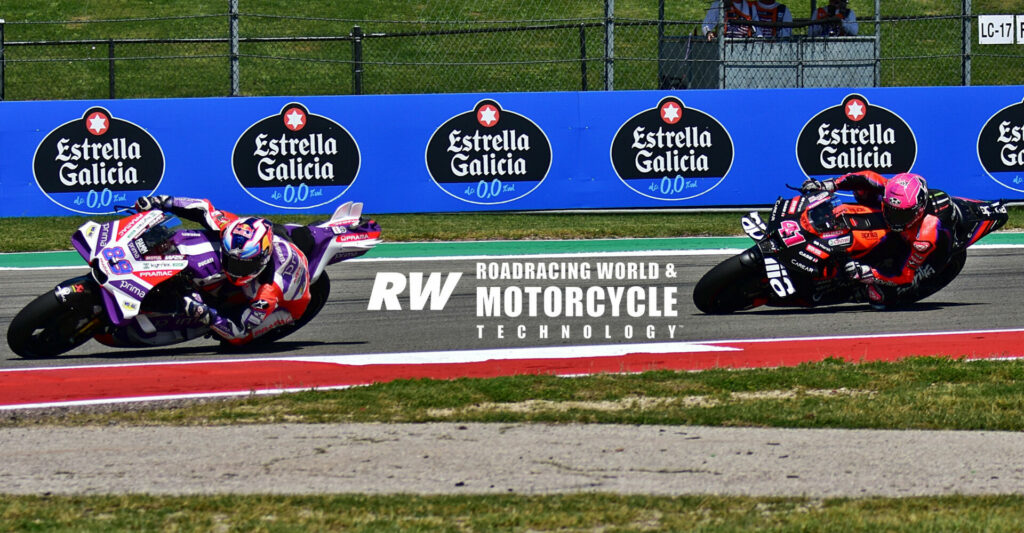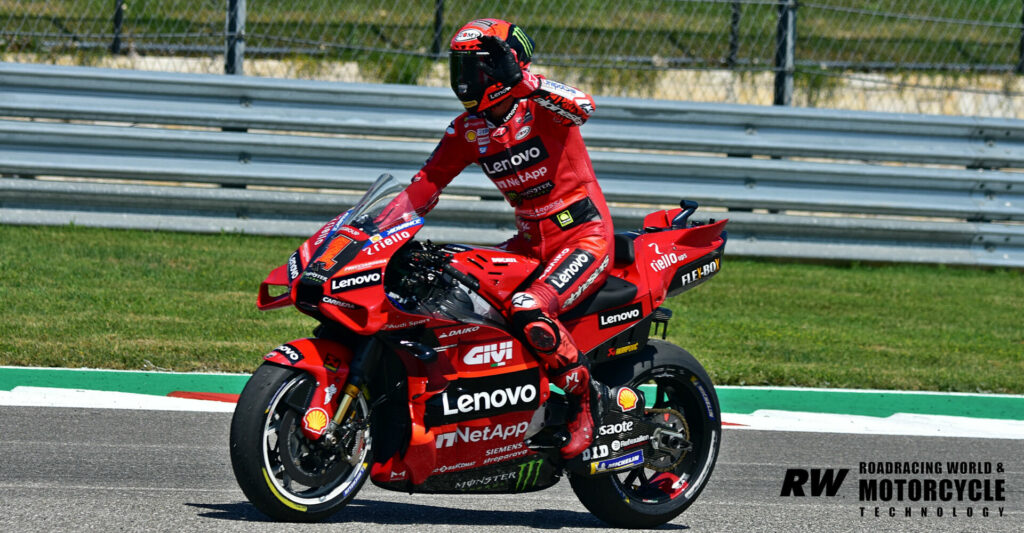 MotoGP Sprint Race
MotoGP Points after Sprint
More, from a press release issued by Dorna:
Bagnaia outruns Rins, Martin duels Aleix Espargaro as Quartararo slides out at COTA
Rins on the podium, surprise errors at the front, some serious charges through the field and a single point in it at the top of the standings: Saturday sent it with another shuffle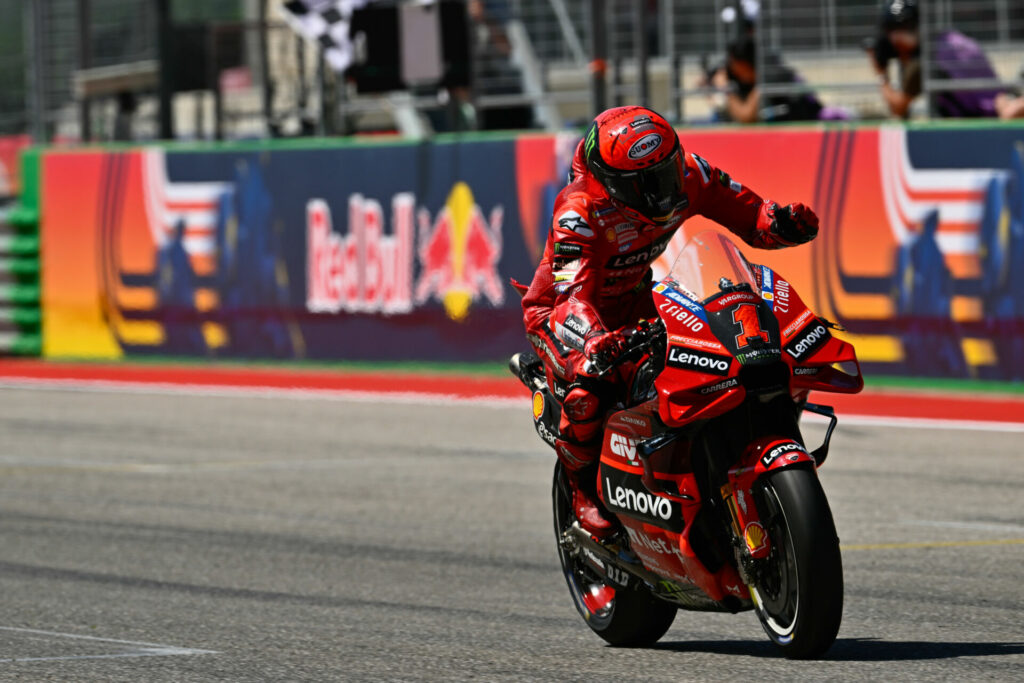 Sunday, 16 April 2023
There was adrenaline from the moment the lights went out for the Tissot Sprint at the Red Bull Grand Prix of The Americas. Francesco Bagnaia (Ducati Lenovo Team) lined up on pole position for the first time in 2023, and it was game on as the chasing pack were eager to get the better of the number 1. Alex Rins (LCR Honda Castrol) tried it early but was shaken off as Bagnaia sprinted free to take victory, but the number 42 battled back into second for a first taste of Prosecco with Honda. It was a duel to decide the final place on the podium, with Jorge Martin (Prima Pramac Racing) storming up from 12th on the grid to fend off Aleix Espargaro (Aprilia Racing) for third on the final lap.
Rins got the perfect launch as he took the holeshot into Turn 1, but the Honda then ran wide and allowed Bagnaia back through. It only took a few corners before Rins threw it back up the inside of the Ducati again, but the Italian bit back and used his Borgo Panigale power to blast past the Spaniard on the back straight. Meanwhile, Aleix Espargaro and Fabio Quartararo (Monster Energy Yamaha MotoGP™) had also made impressive starts, shooting up into third and fourth, respectively.
With one lap down, Rins was still all over the rear wheel of the factory Ducati, but then the LCR rider out-braked himself at Turn 12, allowing Espargaro through. It almost let Quartararo through the door as well, but despite a little contact Rins was able to fend the Frenchman off. A lap later and it was Martin next on the scene to duel Quartararo, and the number 89 made shortish work of it, blasting past up into fourth.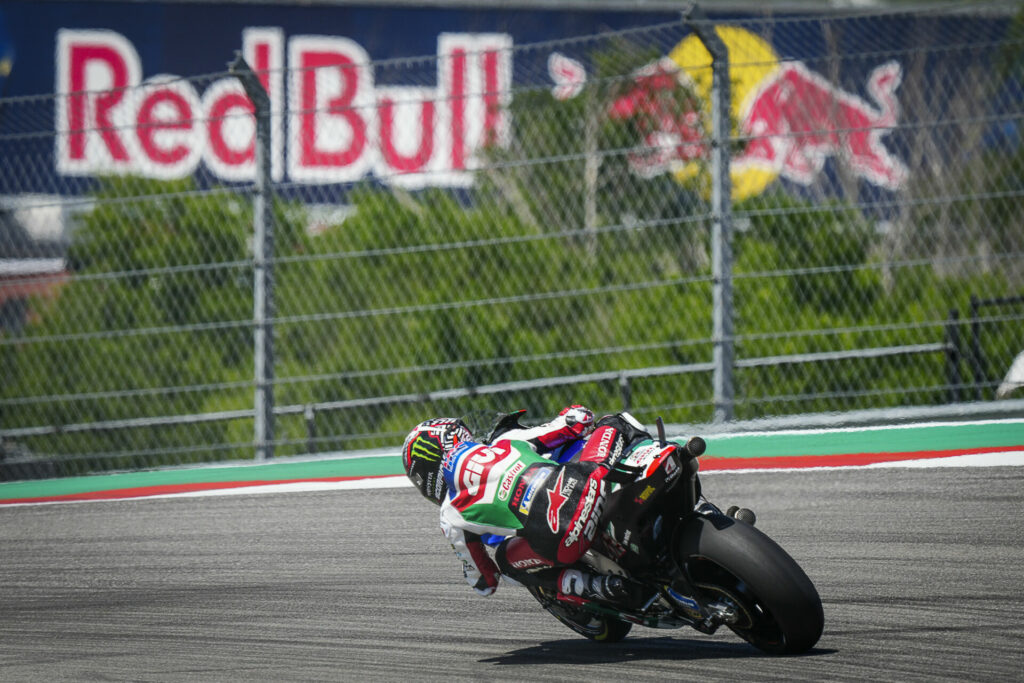 Quartararo did his best to find off the Ducati rocketships, but next it was Alex Marquez (Gresini Racing MotoGP™). On the brakes, the 2021 World Champion then overshot Turn 12, allowing Alex Marquez through. Half a lap later it all came tumbling down as Quartararo's Yamaha slid out at Turn 1, with the Frenchman rejoining but well down the order.
Back at the front, Bagnaia began to stretch out the field as he put down some lightning-fast pace. Aleix Espargaro and Rins were holding station in second and third, but it wouldn't stay that way for long. With four laps to go Rins muscled his way past the Aprilia, but as the battle for P2 came to the end of the back straight once again, Rins barrelled into the braking zone ever so slightly over the limit of his LCR Honda. That sucked in Aleix Espargaro, who followed Rins into the corner and ran wide. Alex Marquez was also caught out, the number 73 then down and out of the Tissot Sprint.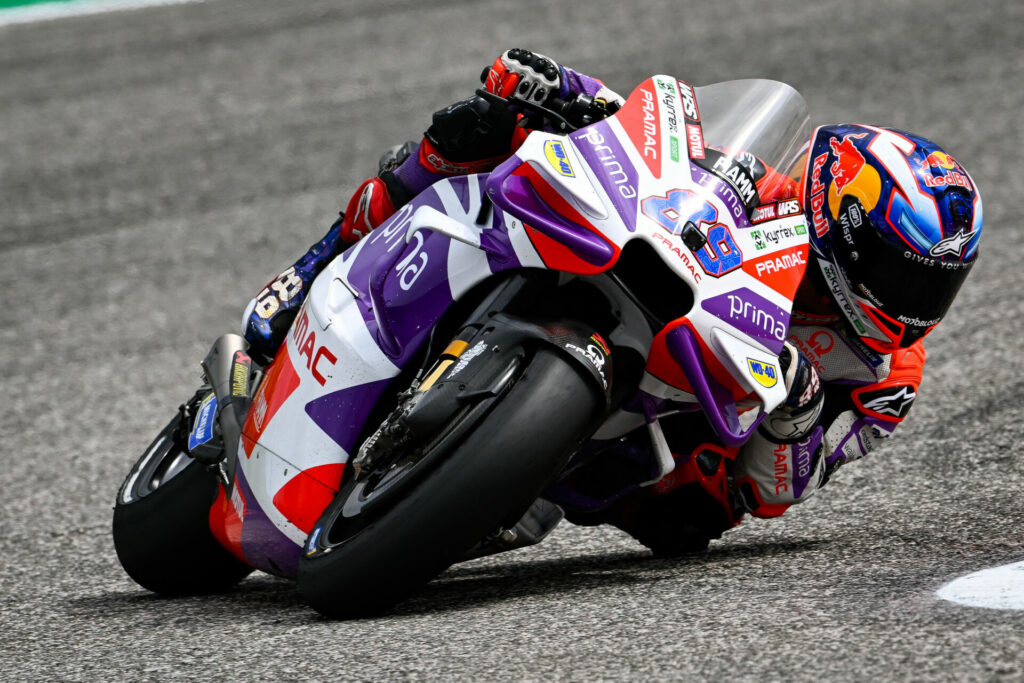 Meanwhile, Rins was able to make it stick and make his escape, with Aleix Espargaro left to duel Martin. The Prima Pramac rider had made an attack stick, but onto the final lap, Espargaro was almost riding pillion through the slalom section, desperate to find a way past. The Spaniard wanted to get through on his compatriot before the Ducati could stretch its legs on the back straight, but it wasn't to be. The final sector arrived and there was only one thing for it: a lunge. Espargaro dived up the inside at the penultimate corner, but he ran wide and the Pramac cut back up the inside, giving Martin his second Tissot Sprint podium of the season.
Whilst the riders out front scrapped it out, the battle for the top five was hotting up too. It was Brad Binder (Red Bull KTM Factory Racing) who led the group, with Marco Bezzecchi (Mooney VR46 Racing Team) and teammate Luca Marini in hot pursuit. In the end, the South African was able to fend off the Mooney VR46 Racing riders and bring home fifth  from 11th on the grid. Bezzecchi, however, retains the points lead overall by one single point.
Miguel Oliveira (CryptoDATA RNF MotoGP™ Team) got the better of Jack Miller (Red Bull KTM Factory Racing) to bring his Aprilia home in P8, with Maverick Viñales (Aprilia Racing) rounding out the top 10 after a tough start for Top Gun.
That's a wrap! A Bagnaia win, a first for Rins and a return for Martin… following an action-packed start to the Red Bull Grand Prix of The Americas, we now have a chance to catch our breath before it all starts again on Sunday. If Saturday is anything to go by, you do not want to miss any of the action as the Grand Prix race gets underway at 14:00 local time (GMT- 5)!
QUOTES: TOP 3
PECCO BAGNAIA: "It was one of the best days I've had in MotoGP considering the performance we had all day. We've worked so well from yesterday morning and my feeling with my bike is growing and in this track for the first time, I'm feeling great. So we worked well. This morning with used tyres I was feeling OK so I was already understanding where to improve. But today for the Sprint it was quite difficult because the conditions were quite hot and it was difficult to stop the bike. I was having a lot of locking and sincerely it was a bit of a problem at the start of the race, but then I got used to it and I was managing it. But I think tomorrow will be another story for the conditions.
How are you feeling and who do you see as potential threats over 20 laps?
"First of all 20 laps are a lot, even today with 10 laps it was quite long. We have to remain calm, I think you can push from the start like today. I had to wait a bit and the first part of the race was a bit slower for sure. Then we will see if I can improve the pace a bit and if I have the pace to open up a gap like today. In any case, we have to keep calm and see like today what will be the conditions that will change for sure. I just saw that maybe it will be colder so it will be easier to be competitive. Let's see…"
ALEX RINS: "We had a really great day today, qualifying and the Sprint. I gave my maximum, I tried to overtake Pecco as soon as possible because I knew he had good pace and I tried to ride on my own but he overtook me and then I went straight at T12, with the hot temperatures it was difficult to not lock the font and to stop the bike. But we did a great race, let's see tomorrow, for sure this bike isn't the same as the bike I was riding last year, and what I can say is I need more strength in my body to be fast through the chicanes to be fast, but let's see tomorrow.
"We have a good bike, a lot of information, today honestly the hot temperatures we didn't expect and didn't ride with them before so for us, or for me, the electronics wasn't at 100%, so let's see if tomorrow it's warmer like this but we have information. As Pecco says, the race today was fast so we'll need to take more care of the tyres to arrive with better performance at the end of the Grand Prix race."
JORGE MARTIN: "Today I was struggling a lot in qualifying. In FP I felt super confident, I had a really good pace, was really close to the top guys, and I was feeling great. I think the antibiotics did their work and in the race, I was struggling a lot with my physical condition. But anyway the team did an amazing job preparing both bikes to be ready to race. Finally, we chose a bike that I thought was the good one even though we had some issues in the race. Coming through from 12th to 3rd position is not easy but I gave my 100%. Yesterday I was feeling worse so I feel like tomorrow I will maybe be better and have more strength to battle a bit better also."
Talk us through battle with Aleix!
"As soon as I overtook him I felt so weak, so I just waited for his overtake. I was just going slow and braking hard, and finally, I could use that to beat him. You know, I was super slow but I was just taking my time to understand how to manage the battle. It wasn't easy but I was cleverer than him today and I hope tomorrow I feel better. I will try to rest today a lot and to gain a lot of energy tomorrow!"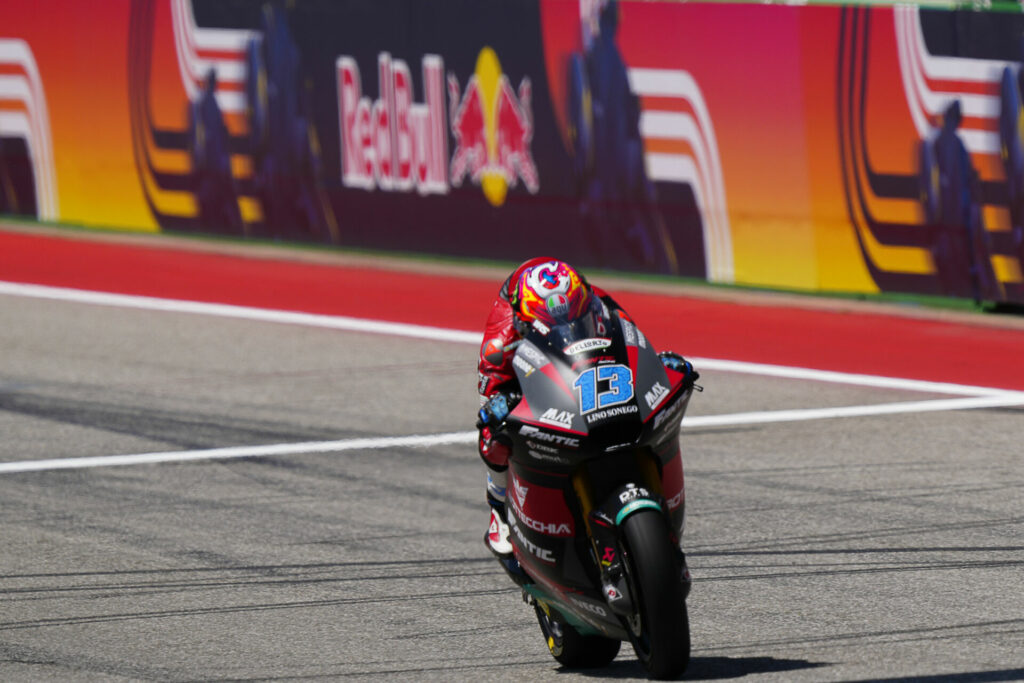 Vietti back on top to take pole from Acosta by 0.020 at COTA
The Italian heads the grid from Acosta and Salač, with points leader Arbolino down in P8
Celestino Vietti (Fantic Racing) is back on top! The Italian stole pole position away from wonder-kid Pedro Acosta (Red Bull KTM Ajo) at the Red Bull Grand Prix of the Americas by just 0.020 after an incredibly close shoot out, with the two joined on the front row by Filip Salač (QJMOTOR Gresini Moto2™).
Salač set the benchmark on the first run, but as the riders headed out for their second bite of the cherry, it was the flying Acosta who stormed to the top of the pile despite strong laps from Jake Dixon (GASGAS Aspar Team) and Tony Arbolino (Elf Marc VDS Racing Team). With just over a minute remaining, Dixon was on a flyer but a moment for Ai Ogura (Idemitsu Honda Team Asia), who was right in front of the Brit, halted his progress as he consolidated P6.
Meanwhile, Vietti was on a flyer and put in the perfect final sector to push Acosta off the top spot and take pole. That pushes Salač down to P3, with Bo Bendsneyder (Pertamina Mandalika SAG Team) heading Row 2 via Q1. Fifth goes to Alonso Lopez (Beta Tools Speed Up), also from Q1, with Dixon sixth. Aron Canet (Pons Wegow Los40) is next up, and Arbolino starts P8. Check out the full results below!
The Moto2™ riders' attention now turns to the race on Sunday, make sure not to miss any of the action as it commences at 12:15 local time (GMT -5)!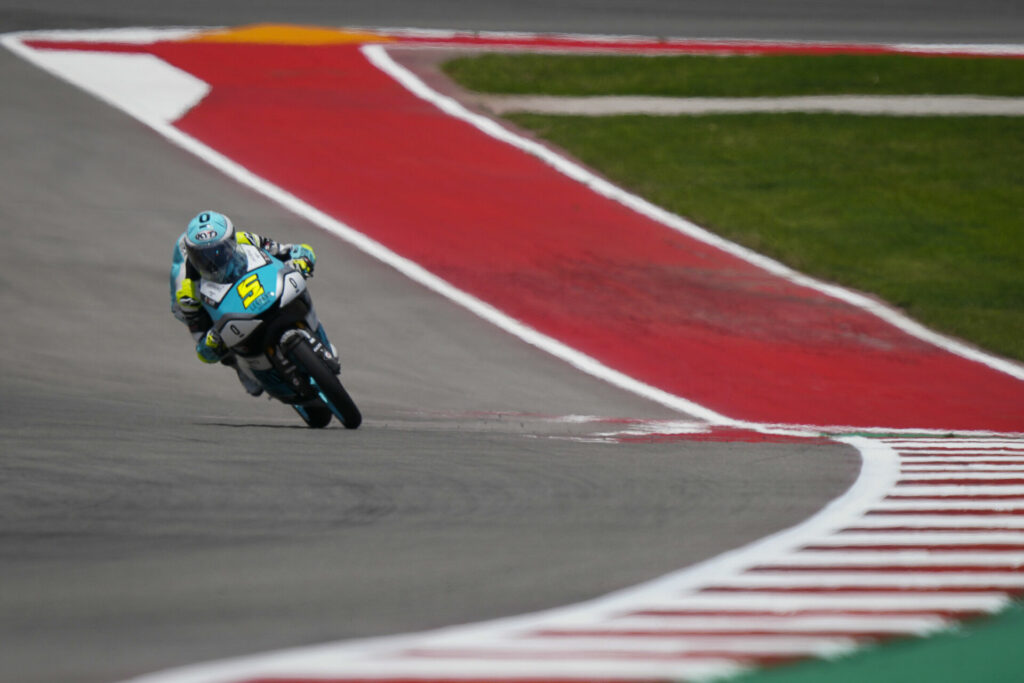 Masia pips Sasaki to pole in Texas
The Leopard Racing rider is back on top in Austin, with Sasaki and Ortola for company on the front row
The early bird got the worm in Moto3™ qualifying at the Red Bull Grand Prix of the Americas as Jaume Masia's (Leopard Racing) very first fast lap proved unbeatable once set. Polesitter in Portimao and Argentina, Ayumu Sasaki (Liqui Moly Husqvarna Intact GP), got closest as he gets ready to race from second place, with Ivan Ortola (Angeluss MTA Team) going one better than Termas with third and the front row in Texas.
Diogo Moreira (MT Helmets – MSI) heads Row 2 this time around, with points leader Daniel Holgado (Red Bull KTM Tech3) just behind him in a reverse of their Championship positions. Holgado also crashed in Q2, but rider perfectly ok and no one able to really shuffle him down the order. Stefano Nepa (Angeluss MTA Team) completes the top six.
Argentina winner Tatsuki Suzuki (Leopard Racing) starts tenth, with fomer COTA winner Romano Fenati (Rivacold Snipers Team) in P13 just ahead of Deniz Öncü (Red Bull KTM Ajo). For full timesheets, see below.
Who can tame COTA? Tune in for the second Moto3™ showdown of the season on Sunday at 11:00 (GMT -5) to find out!
More, from a press release issued by Gresini Racing:
GOODBYE SATURDAY: ALEX CRASHES, DIGGIA ONLY 17TH
The #AmericasGP has not been particularly benevolent to Team Gresini MotoGP on the Saturday of qualifying and sprint race. Scorching hot conditions have been the protagonists of the Texan afternoon as it turned the tables on a race that still saw Marquez among the protagonists.
After a so-so start, the Spaniard put together a comeback all the way to the top five, but with less than five laps to go a crash at turn 12 took place, with a few regrets left on the asphalt as well. The good news came from the morning, however, as the fourth place on the grid achieved in qualifying will repeat tomorrow at 14:00 local time (GMT -5) for the full race.
It was a colourless race for Fabio Di Giannantonio who could not finish higher than 17th. The Italian had little luck in qualifying after a good FP3, while in the race there was not enough time for a comeback.
DNF – ALEX MARQUEZ #73
"I was feeling good performance-wise in the race, as despite a crash in qualifying we still had the confidence and a good pace. Unfortunately I wasn't feeling good physically and I even threw up under braking at turn 12 and crashed. I "freed myself" after the race and now I feel quite well, and ready to make amends tomorrow."
17th – FABIO DI GIANNANTONIO #49
"We've been struggling the whole weekend so far, with the bike that understeers a lot mid-turn, so I cannot corner the way I'd like. It's something that happens to us from time to time and this track layout surely doesn't help. We tried a set-up adjustment this morning that allowed us to make a step forward, but we went back to struggling in the afternoon as the track conditions changed and the grip level decreased."
More, from a press release issued by RNF MotoGP Team:
Two points for Oliveira and a top 15 for Fernandez in Saturday's heat Sprint
The burning Texan sun witnessed an intense Saturday for the CryptoDATA RNF MotoGP Team at the Circuit of the Americas. Despite the intense competition, both Miguel Oliveira and Raul Fernandez emerged with a conciliatory outcome.
Following two crashes in FP2 yesterday, Oliveira had to regain confidence with his Aprilia RS-GP throughout today at one of the most challenging circuits of the MotoGP calendar. Overnight rain altered track conditions for today's dry FP3 session. In Qualifying one, the Portuguese rider improved his personal best by 0.277 seconds from yesterday, which left him in fifth position, but missing out on Q2.
Oliveira started the Sprint race this afternoon from P15 in the fifth row of the grid. An impressive first lap saw him climb six positions to P9. He was then fighting for the final points of the Sprint throughout the race, but with two laps to go, he managed to secure eighth, which he defended until the end of the hot ten laps race, earning two important championship points.
On the other side, Fernandez felt potential on Friday and was working further on himself aboard his Aprilia RS-GP this morning. In Qualifying, while trying to improve his lap time, he unfortunately had a nasty fall in the last minutes and eventually ended up in P9 and was forced to start the Sprint race today from the 19th on the grid.
In the first sector, he managed to stay in P19 and moved up further to the front lap by lap, while starting to find a decent feeling. By the end of the first lap, he had jumped up to 17th place and continued his ascent, making his way to P16 at the race's halfway point. He finally kept his pace and crossed the line inside the top 15.
But the big points are up for grabs tomorrow. After their Warm Up at 09:45 local time (16:45 CET), both CryptoDATA RNF MotoGP Team riders are hopefully going into tomorrow's main race with even more confidence. The third race of 2023 starts at 14:00 local time in Texas (21:00 CET) and will mark the 200th Grand Prix of Miguel Oliveira's career.
MIGUEL OLIVEIRA
"It's not ideal to start 15th, but we managed to get the best out of the situation and recovered some places. We did what we wanted to do – to score points in the sprint, which is the hardest to do. This result would mean a lot more points for tomorrow but for the moment, we still need to work a little bit more on the bike as I don't feel completely comfortable. I was not able to have extra grip at the beginning on the new tyres but I managed to overtake a few guys. I'll start 15th again tomorrow and I have a lot more work to do."
RAUL FERNANDEZ
"To be honest, it was difficult today. We did some positive steps in FP3 and in qualifying, and I felt really good. But the problem was in the race, if you start at the back, it was impossible to overtake. In one moment in the race, I was alone, I had Takaaki (Nakagami) and Franco (Morbidelli) in front of me and I thought I could chase up to them. But once I got closer, it was impossible, even more with the front tyre temperature rising, I had to close the gas and try again. I am frustrated with myself that I could not make a better result. If we start the race from the front, it is completely different. But now, I understand the bike more and I know I need to be calmer and then we will get there."
More, from a press release issued by Monster Energy Yamaha:
Tough COTA Sprint for Monster Energy Yamaha MotoGP
Austin (Texas), 15th April 2023
GRAND PRIX OF THE AMERICAS
SPRINT
Monster Energy Yamaha MotoGP's Franco Morbidelli and Fabio Quartararo were gunning for points in today's Grand Prix of The Americas Sprint, but they didn't materialise. The teammates finished in 14th and 19th place respectively.
14th FRANCO MORBIDELLI +16.534 / 10 LAPS
19th FABIO QUARTARARO +27.169 / 10 LAPS
Monster Energy Yamaha MotoGP's Franco Morbidelli used today's Grand Prix of The Americas Sprint to gain further data for tomorrow's Race. Though he didn't quite have the pace he had hoped for, he still finished in 14th place. Fabio Quartararo had a strong start to the Sprint and was going in guns blazing. However, a luckless crash in Turn 1 ended his top-5 hopes. He rejoined the race and showed resilience, taking 19th position.
Morbidelli started from P14 on the grid and gained a position on the opening lap before getting into a battle with Luca Marini and later Takaaki Nakagami. He started to build a rhythm throughout the race, which will be data to base his race set-up on tomorrow.
Though Morbido was not able to keep Maverick Viñales behind him, he found himself in 14th place after his teammate had crashed out on lap 5 and Alex Marquez on lap 7. The Italian held the position to the finish line, crossing it 16.534s from first.
Quartararo had a strong start from seventh on the grid and emerged from the tight left Turn 1 in fourth position. He was tailing Aleix Espargaró and together they reeled in the leading duo. However, contact between El Diablo and Alex Rins in Turn 12 on lap 2 lost the pair some time.
The Yamaha man was riding on the limit but had to let Jorge Martin through on lap 3 and Alex Marquez on lap 4. He was trying everything he could to stay with the group, but then a luckless Turn 1 ended his point-scoring hopes. Though the Frenchman was quick to remount, he found himself in 21st place. He kept at it though and ultimately took the chequered flag in 19th position.
Today's result sees Morbidelli in 10th place with 21 points in the riders' championship. Quartararo is now 12th in the overall standings with 18 points. The Monster Energy Yamaha MotoGP team stay in 7th place in the team championship with 39 points, and Yamaha move to fifth in the constructor's championship with 27 points.
The Monster Energy Yamaha MotoGP Team will be racing again at COTA tomorrow at 14:00 local time (GMT -5).
MASSIMO MEREGALLI
Team Director
Today's Sprint didn't turn out as we had hoped. It's a pity, especially for Fabio. He had a good start and played it smart in Turn 1. This put him in the right place early on to battle amongst the front group. He did all he could to stay with those riders, to the point that he made a small mistake in Turn 1. It's a shame, but small errors happen when riding at 110%. Franky's Sprint became a bit of a lonely ride in the end. Though he scored no points, these 10 laps can still be helpful to us. We will use today's Sprint data for tomorrow's Race.
FRANCO MORBIDELLI
It was difficult because this morning I missed Q2 due to a mistake I made in Turn 15 and Turn 8. I started 14th instead of 8th, and that starting position didn't help me, because when you're in the group, the temperature of the front tyre goes sky high, and you can't attack anymore. We were held back by this problem because this afternoon the temperatures were suddenly so high.
FABIO QUARTARARO
I feel frustrated, of course, because we had the speed. When we are riding with the others, I can't do much. We have to stay calm and try to find an improvement as soon as possible. I wasn't over-riding in this Sprint. Only maybe on braking, that's where I'm able to recover ground. I hope we can make a step in the next weeks and races. If you don't make a good start, then it's basically all said and done, so for tomorrow making a good start like today and being aggressive from the start will be our main aim again.
More, from a press release issued by GASGAS Factory Racing Tech3:
FERNANDEZ-FOLGER DUO COMPLETES SPRINT OF GRAND PRIX OF THE AMERICAS IN P16 AND P20
Qualy and sprint day! Those are the main words happily chanted on Saturdays nowadays in the MotoGP™ paddock. GASGAS Factory Racing Tech3's riders Augusto Fernandez and Jonas Folger continued their campaign of the Red Bull Grand Prix of the Americas, with the qualifying sessions in the morning, followed by a ten lap-Tissot Sprint at 15:00 local time (GMT-5).
The day started with thirty minutes of Free Practice, used to get the final adjustments ready before the first highlights of the weekend. In the Q1 filled with some big names, rookie Augusto Fernandez rode his fastest lap in 2'03.978 which gave him the twentieth position on the grid. Jonas Folger suffered a small crash early in the session, that prevented him from being able to improve his lap times. The German rider completed the grid in twenty-second.
The Tissot Sprint set the riders up for a tough ride, with the thermometer indicating 30° in the air, and 45 on track. Starting from P20, Augusto Fernandez retained his position at the race start, before gaining a few more with Fabio Quartararo crashing at the front. On lap 7, he grabbed one more position by overtaking Fabio Di Giannantonio, just before he registered his fastest lap of the race in 2'05.143. He finished sixteenth, just like the Sprint in Argentina.
Jonas Folger experienced his first ever Tissot Sprint today, with only three practices and one qualifying session in the bag on the GASGAS RC16. The main goal was to complete the sprint while continuing to learn more about the bike, which is mission completed for Pol Espargaro's substitute, who finished twentieth today. Both GASGAS Factory Racing Tech3 riders will now be eager to return to action on Sunday, with the main race scheduled at 14:00 local time (GMT-5).
Raul Fernandez
Position: 16th
Championship: 14th
Points: 8
"It was a tough ten laps today in the sprint. I am having a difficult weekend here in Austin because I don't feel extremely comfortable compared to the first two races. We are working on it, and I think that we made positive steps in the sprint by taking the experience of ten laps in a row in race pace mode. We can do a better job tomorrow on the long haul, so I look forward to the main race."
Jonas Folger
Position: 20th
Championship: 22nd
Points: 0
"It was a really hard race for me because the bike felt different than in the practices and in the qualifying. We made small changes on the front suspension, but the feelings were negative, probably also because of the heat, so overall I expected more of this sprint. Our main issue at the moment is still trying to find the right ergo setting because I am not comfortable on the bike, and it feels like I don't have control of it at times. Anyway, I would like to thank the team for staying behind me, and I look forward to the race tomorrow."
Nicolas Goyon, Team Manager
"It is another solid performance for rookie Augusto Fernandez who has not had an easy weekend so far with a few crashes, which prevented him from working properly on his race pace. He started the sprint from the back of the grid, but he managed to find his pace, improve his lap times, and even overtook a few riders. He gained four positions with encouraging lap times, which gave us confidence for Sunday's race. On the other side of the garage, Jonas Folger experienced his first ever Sprint race. He suffered a bit due to a lack of bike knowledge, which is normal, and he also needs to improve his ergo settings that will allow him to feel more comfortable, and have a better pace. We have some work to do tonight, but we are positive about Sunday's race, and I think that both can do a good job."
More, from a press release issued by Repsol Honda:
Valuable Sprint finishes for Repsol Honda Team pair
Joan Mir and Stefan Bradl collected important data over the course of the Americas GP Sprint race, taking 12th and 18th place respectively.
Saturday at the Red Bull Grand Prix of the Americas brought the third weekend of the new 2023 MotoGP World Championship format, morning Qualifying followed by the Sprint race in the afternoon. The 10-lap battle was again a thrilling affair over the 5.5 kilometers of the Circuit of the Americas in Austin, Texas.
Q1 saw Mir again on the brink of passing through, the #36 setting the second fastest lap of the session with just moments left on the clock. A final flying lap from Zarco knocked Mir out of the crucial top-two spots with Mir ultimately securing 13th on the grid for the Sprint and feature race.
From the head of the fifth row, Mir made a strong start and immediately began to battle with the likes of Oliveira and Morbidelli. After running wide early in the race, the Repsol Honda Team rider focused on his recovery and steadily picked his way back up the field to cross the line in 12th place. While Mir was aiming for more, the Sprint race did yield important information to continue his adaption to the Honda RC213V.
On the other side of the garage, Stefan Bradl continued to make improvements and qualified in 21st. The German then headed into his first ever MotoGP Sprint race aiming to gather as much data as possible and avoid any unnecessary risks. This attitude saw Bradl achieve his target of finishing as the top Test Rider in the race as he crossed the line in 18th position.
Alex Rins scored his debut podium finish on the Honda RC213V as the LCR Honda rider put in an impressive performance to take second place – equaling his qualifying result. This is Honda's second Sprint podium of the season.
Sunday will see the full 20-lap Americas Grand Prix, scheduled to start at 14:00 Local Time, take place. Both Repsol Honda Team riders are eager to return to the track and put their learnings into action and take advantage of today's result.
Joan Mir
12TH 
"The Sprint today shows us that there is still work to do, especially with being able to really ride how I want on the bike. But we are learning and improving all the time, this is the important point and what we are focusing on. It was really important to finish the Sprint today after two difficult and unlucky ones at the start. As a result, we have a better idea of what to expect tomorrow so we can prepare better. It was a really demanding race in this heat and with the conditions out on track."
Stefan Bradl
18TH 
"We arrived here with realistic expectations, and we were able to achieve what we set out to do. The Sprint is very intense, it's what I expected and especially here it's really demanding in this weather and with this physical track. I lost a bit of ground in the first high-speed braking, but I am not in a situation or a position to take a lot of risks. We were able to learn some good things about the bike for tomorrow and the objective is to again have another consistent race."
More, from a press release issued by Mooney VR46 Racing Team:
P6 AND P7 FOR BEZZECCHI AND MARINI IN THE SPRINT AT AUSTIN
The riders of the Mooney VR46 Racing Team forced to recover after the start: Marco still leader in the general standings and Luca starting from the front row for tomorrow's GP
Austin (USA), April 15th 2023 – Marco Bezzecchi and Luca Marini closed the Saturday Sprint at COTA with two good positions. After a complicated start, respectively 11th and 14th at the end of the first lap, they cross the finishing line in sixth and seventh place.
On the Ducati Desmosedici GP and working on the race pace for tomorrow, Marco is satisfied with the steps forward in the final free practices session and with his fifth place on the grid. He confirms the leadership in the general standings (54 points) together with the P1 among the Teams (72 points).
Other points also for Luca, in P3 on the starting grid (position also valid for tomorrow's start) and wide at the first corner. Forced to the rear of the group, he recovered with good pace in the final stages of the race.
LUCA MARINI – 10
I honestly don't know what happened at the start: I was too inside at the first corner, compared to my usual line, and there was a lot of dirt there, also considering that this is the first race of the weekend. The bike shaked a lot, even the fork and the front wheel went into blockage. I braked hard to avoid hitting Pecco and I went wide, losing many positions. A real shame, for the first time this year I had a good qualifying. We still have another race tomorrow and I really enjoyed it today. I fought a lot, maybe my MotoGP race with the most overtaking. The key to the long race will be the choice of front tyre: with these temperatures, it drops after 6/7 laps and I took a lot of risks in order not to lose the front.
MARCO BEZZECCHI – 72
An overall positive day between qualifying and the Sprint. Compared to yesterday, we did a good job and took a big step forward. It wasn't easy to hit the second row having to go through the Q1. I didn't start badly in the race, I mean the sprint at the start, but I lost a lot of positions at the first corner. I tried to recover and I think I achieved the best result possible today. Let's keep going!
More, from a press release issued by KTM Factory Racing:
BINDER STANDS-OUT IN RED BULL GRAND PRIX OF THE AMERICAS MOTOGP™ SPRINT
MotoGP 2023 – Round 3 of 21, Circuit of the Americas – Qualification and Sprint
Red Bull KTM Factory Racing scorched the asphalt at the Circuit of the Americas as Brad Binder dashed to 5th position in Texas on Saturday. The third MotoGP Sprint of the season whet the appetite for the Grand Prix on Sunday and while Binder was top five, Jack Miller captured 9th. Both riders started from decent grid positions of 10th and 11th after morning qualification.
5th place in the Sprint for Brad Binder who launched from the fourth row
Jack Miller again shows his ability for the Texan track with a good start and a top ten result
Both Red Bull KTM RC16s make direct Q2 qualification for the first time this season
Daniel Holgado to start from 5th on the Moto3™ grid as Pedro Acosta earns 2nd in Moto2™ Q2
Warm and humid conditions opened the second day of the Red Bull Grand Prix of the Americas and the tenth visit by the world championship to the sprawling and challenging track south of Austin. Decent work on Friday in both Practice 1 and 2 sessions meant both Brad Binder and Jack Miller found times in the top ten of the standings and achieved direct Q2 entry for Saturday. This helped provide a platform to increase the competitiveness of the RC16 set-up, conserve tire allocation and guarantee slots on the first rows of the grid.
During the decisive Q2 session Miller was hunting the fringes of the top five until small slips at the low-speed Turn 1 and 14 on two separate occasions foiled his attempt to be further forward. He rested in 10th and was just two tenths of a second ahead of Binder in 11th. The track's grip level had lowered after some overnight rain and the conditions were tricky to judge for the 10-lap Tissot Sprint.
Despite a hair-raising first lap with a few 'moments', Binder diligently applied his pace and racecraft to the affair and worked his way up to a decent 5th position. Only a few places and seconds behind was Miller, in 9th. The team plan to use the data from the Sprint to analyze and reset for optimum performance in the 20-lap Grand Prix tomorrow; that begins after the Moto3 and Moto2 races and is set for 21.00 CET.
Brad Binder, 11th in qualification, 5th in the Sprint: "Today was difficult. The conditions were different to what we have had so far this weekend and the grip level changed a lot. The first lap was sketchy and I struggled to roll around the corners. I lost a lot of time because of that but once I had my bearings I could move forward. It was a hard race today but hats-off to the team and my guys because we have made a big step from last year where we would have dreamed of being 5th. We need that last step for tomorrow and I think it will be a different story with that full race distance…but it should work in our favor."
Jack Miller, 10th in qualification, 9th in the Sprint: "It was a struggle during the first three quarters of the race. I was searching for drive out of the corners. I was getting a lot of spin and the track had changed overnight with the rain and it threw the balance of the bike. We made a step in the right direction but we need to find a bit more for tomorrow. We had to play a patient game with the front tire as the temperature just rocketed. We have a great package but we just need to dial-it-in and get it near perfect because we almost had it yesterday."
Francesco Guidotti, Red Bull KTM Factory Racing Team Manager: "The different conditions on track this morning meant we struggled for a while. In the Sprint though we enjoyed our normal good starts. Brad built a good race pace and finished 5th although there were issues with rear grip. A top five was acceptable for us in the circumstances and especially because he ran wide a couple of times: the lack of rear grip affected him in the hard braking zones. Anyway he found good pace again and he kept his position. In general it was a good race. Jack had two small crashes this morning but finished the Sprint to get one point. We will try to fix everything for tomorrow's race although it looks like it might be different again because the temperatures are set to drop. We will have ten minutes in the warm-up to try and get everything sorted."
Results Qualifying MotoGPRed Bull Grand Prix of the Americas
1. Francesco Bagnaia (ITA) Ducati 2:01.892
2. Alex Rins (ESP) Honda +0.160
3. Luca Marini (ITA) Ducati +0.289
10. Jack Miller (AUS) Red Bull KTM Factory Racing +1.192
11. Brad Binder (RSA) Red Bull KTM Factory Racing +1.215
 
Results MotoGP Sprint Red Bull Grand Prix of the Americas
1. Francesco Bagnaia (ITA) Ducati 20:35.270
2. Alex Rins (ESP) Honda +2.545
3. Jorge Martin (ESP) Ducati +4.706
5. Brad Binder (RSA) Red Bull KTM Factory Racing +8.175
9. Jack Miller (AUS) Red Bull KTM Factory Racing +12.448
More, from a press release issued by Aprilia:
ALEIX JUST MISSES THE PODIUM IN THE TEXAS SPRINT RACE GREAT COMEBACK RIDE FOR MAVERICK
Saturday at COTA in Austin, Texas started off with ups and downs for the Aprilia riders. If Aleix had clinched the second row on the grid with a fantastic performance, Maverick had his best lap compromised by a yellow flag which came out due to other riders crashing. In any case, he still had the pace to start from the eighth spot.
At the start of the 10-lap Sprint race, Aleix snatched third place straight away. In just a few laps he had improved even further, moving into second and staying there until the seventh lap. In the final battle for the third step of the podium, Aleix squeezed as much as possible from his RS-GP (second fastest race lap) and had his first medal of the season snatched from him by a hair. Great redemption on a "dark track" for him and for Aprilia.
Maverick was forced to throw himself into a furious comeback ride after a less than perfect start. Falling back into eighteenth position on the first lap, he clawed his way back up to tenth. It was an inaccurate result based on his performance and potential, but in a frenetic 10-lap race, it's difficult to do better.
Aleix
"I am extremely pleased and I must thank the team very much. Normally we don't make huge changes to the setup, but this time they did everything they could to help me. We changed several things on the bike to make it more agile and I immediately felt better, managing to be fast already in qualifying. It's a shame about third place. I made a few small mistakes that kept me from staying ahead of Rins, but being so fast in this type of race, characterised by a quick pace despite the temperatures and an extremely slippery track, is very positive and makes me happy. From the beginning of the weekend we improved in every session. Tomorrow we'll try to make another step forward to get even closer to the leaders!"
Maverick
"I didn't manage the clutch well at the start, losing time in the first acceleration phase, and I found myself practically at the back of the group. In these conditions, everyone know that expressing your full potential becomes complicated. I had the pace to stay with the leaders – I'm certain of it. In fact, in spite of the traffic, I recovered several positions in just a few laps. The speed is there and I felt good in the saddle, so that is definitely a positive note, but the important thing now is to improve the start. It was my fault. Today I made a mistake and I'm fully determined to make sure it doesn't happen again. We'll analyse the data to improve this aspect because we're on target for everything else."
More, from a press release issued by Ducati:
Bagnaia dominates Saturday of the GP of the Americas at Austin as he takes pole and his second Sprint Race victory of the season. Pirro forced to retire following a crash
Two Desmosedici GPs on the Sprint Race podium as Jorge Martin (Pramac Racing) closes third
Francesco Bagnaia dominated Saturday of the GP of the Americas, the third round of the 2023 MotoGP season held this weekend at the Circuit of The Americas in Austin, Texas. After taking pole position in this morning's qualifying session, setting the new all-time lap record for the U.S. track, Pecco imposed himself again in a scorching Sprint Race in the afternoon, as he took a masterful victory, also setting the fastest lap of the race.
After a brief duel with Alex Rins for the first position, the Ducati Lenovo Team rider took the lead on the first lap and stayed there until the checkered flag. For Bagnaia, this is his second Sprint win of the season, after the one he took in Portimão at the end of March. Moreover, thanks to today's success, Pecco is now just one point away from the top of the standings, which sees Marco Bezzecchi still leading.
It was an unlucky GP for Michele Pirro, who is competing in Austin as a replacement for the injured Enea Bastianini. The rider from San Giovanni Rotondo, 18th in qualifying, ran into a crash on the fifth lap and was forced to retire.
Francesco Bagnaia (#1, Ducati Lenovo Team) – 1st
"I am delighted with our results today! After the nice pole this morning, we managed to win the Sprint Race. We finally made a track that was always quite hostile for us friendly. Now we have to stay focused for tomorrow's GP. Compared to today, the temperatures will be lower, and many riders have the pace to stay at the front, but we can surely do well in tomorrow's race too."
Michele Pirro (#51, Ducati Lenovo Team) – Retired
"I am really disappointed about this crash. The guys did an outstanding job allowing me to improve in each session, so I looked forward to finishing the race. Unfortunately, when I saw Quartararo's crash, I probably lost concentration and made a mistake. Now we have tomorrow's GP left, where I aim to do better."
Luigi Dall'Igna (Ducati Corse General Manager).
"Pecco did an incredible job today. After this morning's pole position, he did another beautiful race where he managed the situation in the best possible way by pushing when it was necessary. We are very happy, and now we must stay focused to get the best result in tomorrow's GP."
The GP of the Americas will start tomorrow at 2:00pm local time (9:00pm in Italy) over a 20-lap distance.