The Real Winners and Losers from UFC Fight Night 220 | News, Scores, Highlights, Stats, and Rumors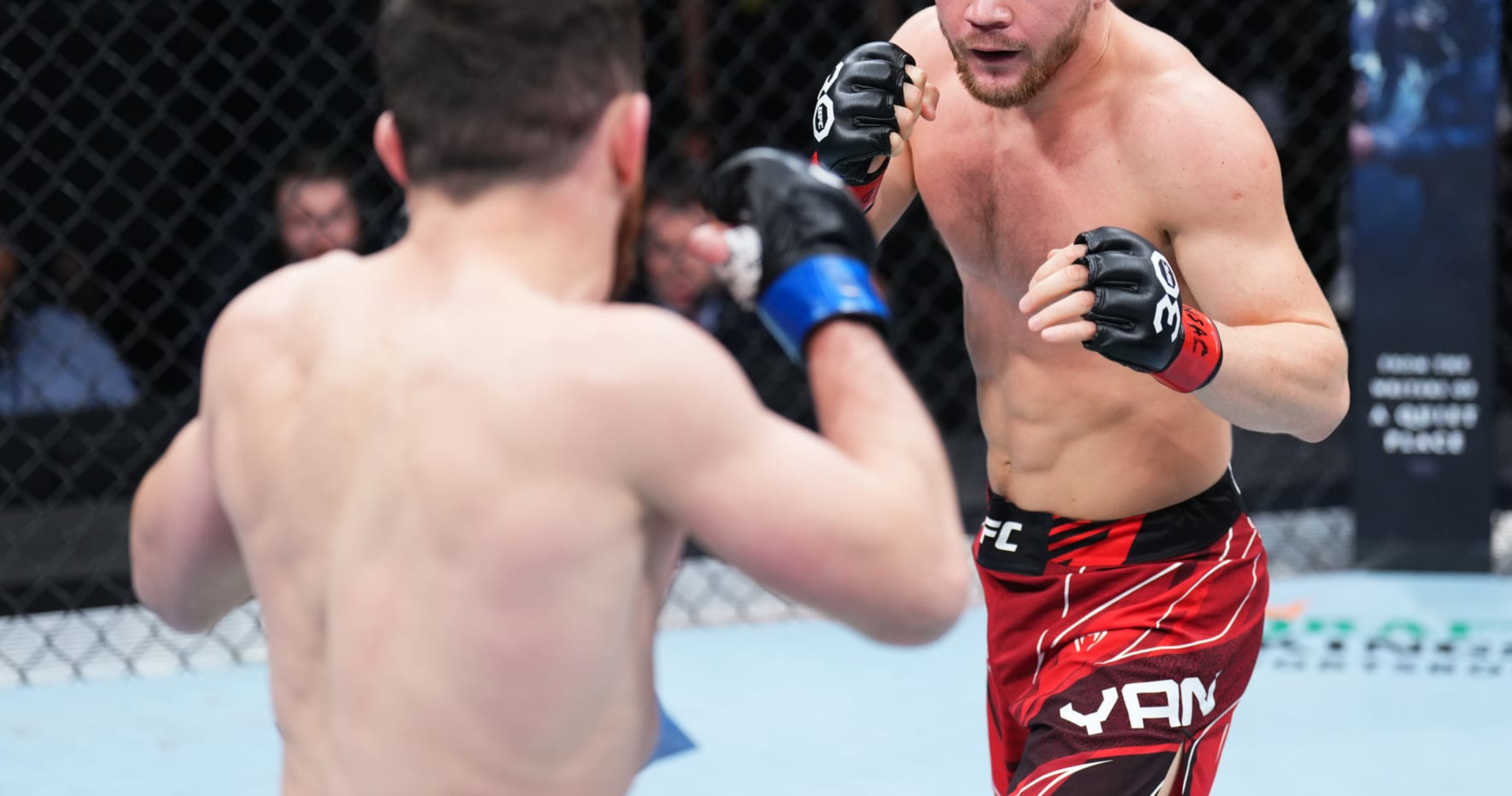 The Real Winners and Losers from UFC Fight Night 220
0 of 7
Chris Unger/Zuffa LLC via Getty Images

It's a busy time for the UFC.

It's a week past a two-title pay-per-view event in the Nevada desert and a week ahead of another extravaganza across the Atlantic in London, England.

But the MMA conglomerate was in no mood for a break on an in-between weekend, instead taking its Fight Night show on the road and setting up shop about two miles away from the T-Mobile Arena for a 13-bout card at The Theater at Virgin Hotels Las Vegas.

It was the first Fight Night outside the UFC Apex since December's trip to Orlando, Florida.

Former bantamweight champion Petr Yan and third-ranked contender Merab Dvalishvili went at it in a scheduled five-round main event, while ranked opponents Alexander Volkov (No. 8) and Alexandr Romanov (No. 14) squared off in the co-main at heavyweight.

The B/R combat team, fresh off an in-building perch at UFC 285, was in position once again.
Winner: Punctuating an Exchange
1 of 7
Chris Unger/Zuffa LLC via Getty Images

Many would argue Petr Yan hadn't lost a fight.

Though his UFC record prior to Saturday was 8-3, one of the L's had come by disqualification in a fight he was controlling, and the other two were by controversial split decisions.

Those arguments don't exist anymore.

The former 135-pound king was under constant pressure via punches, elbows, kicks and takedown attempts from contentious rival Merab Dvalishvili and never found a viable answer, losing all five rounds on all scorecards in a one-sided bantamweight main event.

The two had a physical run-in at Friday's weigh-in and carried the intensity over 24 hours later, eschewing the pre-fight glove touch. Dvalishvili was clearly fueled by the enmity and landed 11 of a UFC record 49 takedown attempts while mixing in enough landed strikes—202, in fact—to leave Yan with a hideously swollen right eye.

The fighters shook hands after the verdict (three scores of 50-45) was announced in Dvalishvili's favor, but the winner wasted no time in suggesting the dislike between the two was motivating.

"It was very personal for me, but I tried so hard to keep it professional," he said. "Thank God I did professional. But remember that Petr call me a zero. Who's a zero now? Who's a zero?"

The win was the ninth straight for Dvalishvili after he arrived to the UFC with two straight losses. He's won eight straight within the 135-pound ranks, which ties him with champion and training partner Aljamain Sterling for the division's longest active run.

He's long said that he and Sterling will never fight, and he reiterated afterward that he'll wait to pursue a title shot until after Sterling, who has an upcoming defense against Henry Cejudo, vacates to move to featherweight.

"Who wants to fight me," he said, "come on, please, fight me. I'm hungry."
Winner: Making It Quick
2 of 7
Chris Unger/Zuffa LLC via Getty Images

Fans of Rocky IV will remember the menace of "Drago."

The blonde-haired Russian, played by Dolph Lundgren, was huge, mean and powerful, and he typically finished fights in lightning-fast, violent fashion.

Alexander "Drago" Volkov may not have quite the aura of his fictional countryman, but the size, demeanor and strength were on full display in Saturday's co-main event—which lasted just 136 seconds and ended with him as a TKO winner over Alexandr Romanov.

A jiu-jitsu ace, the 264-pound Romanov suggested his best path to victory was by getting his foe to the mat, but when Volkov repeatedly stuffed a prolonged takedown attempt in the fight's first 30 seconds, it was all but over. Already.

Volkov landed a strike to Romanov's head in the subsequent exchange that prompted the Moldovan to dive in for a second double-leg takedown attempt. Volkov dropped to his knees to snuff the attempt and began strafing his man with left- and right hand punches.

Romanov retreated into a non-combative shell that drew a warning from referee Mark Smith, and when he withdrew again following a hard left to the chin, it was all Smith needed to call a halt to the action at 2:16 of the first.

"I was expecting him to use all his strength to keep moving forward and take me down, and when he couldn't do it, I knew I'd keep pressing," Volkov said. "I had to keep pressuring. That was my plan. Keep on pressuring. Keep on pressuring."

It was Volkov's 10th UFC win against four losses, while Romanov fell for the second straight time after beginning his octagonal stay with five consecutive wins.

"If you go in there with a guy like Volkov and you are not a killer," ESPN analyst Paul Felder said, "that's what happens."
Loser: Diving into Trouble
3 of 7
Chris Unger/Zuffa LLC via Getty Images

Ryan Spann had shaken out of a perilous position.

The light heavyweight eluded Nikita Krylov's chase for a guillotine choke finish and shook the Ukrainian off his back from a subsequent tie-up before charging in to seize the edge.

But he may have gotten just a smidge ahead of himself.

Spann dove toward a prone Krylov and instantly found himself back in trouble when his foe seized his right arm, then locked his own legs behind the neck to lock in the triangle choke that quickly ended the fight at 3:38 of the first.

It was Krylov's 16th submission and his 30th career win, including 11 across two UFC stints.

It was Spann's third loss in 10 UFC fights.

Krylov and Spann were scheduled to meet in a Fight Night main event two weeks ago, but the match was scrapped when Krylov came up ill after arriving at the UFC Apex.

He apologized to the crowd and the company after defeating Spann.

"If I knew the fight was going to go like that, I may have said yes last time," he said.

"I knew I was stronger than him, but being sick, I didn't know if I could carry the whole fight. So I had to keep pressing forward. I'm ready for anyone."
Winner: Staying the Course
4 of 7
Chris Unger/Zuffa LLC via Getty Images

It seemed as if Jonathan Martinez's chance had passed.

The Texas-based bantamweight seized opponent Said Nurmagomedov's left arm and locked in an armbar that he hoped would end their three-round main-card scrap.

But when the Dagestani veteran wriggled out and flipped position to secure Martinez in a body lock while chasing a fight-ending choke, things didn't look good.

Turns out the 28-year-old wasn't quite through.

Rather than simply accepting his fate in a round that was likely to decide the fight, Martinez managed to escape his perilous position and get the fight back to the feet, surging down the stretch to sway the judges to award him a narrow but unanimous decision.

Martinez won by 29-28 margins on all three cards.

Though out-landed by a 101-78 margin when it comes to strikes and on the short end of a 3-0 margin in takedowns, Martinez did manage to land 69 percent of his significant shots—including an elbow that appeared to break Nurmagomedov's nose—and had better than six minutes in positional control time despite the deficit in takedowns.

"In my heart, I thought I won," said Martinez, who's won five straight in the Octagon and nine of 12 since arriving to the UFC in 2018.

"I was trying to get that finish there, but I was too f–king tired."

Following the victory, he called out ex-bantamweight champ Dominick Cruz and former flyweight king Deiveson Figueiredo, who's said he plans to move to 135 pounds.
Loser: A Wandering Eye
5 of 7
Chris Unger/Zuffa LLC via Getty Images

It was only a moment.

Nine-fight UFC veteran Guido Cannetti was on the wrong end of a suplex slam against streaking bantamweight Mario Bautista, but it wasn't the impact that did him in.

Though the 43-year-old was slammed hard to the mat, his biggest issue came in the immediate aftermath as he lifted his head and seemed to make eye contact with ESPN analyst Daniel Cormier calling the fight at cageside.

Bautista seized upon the instant of inattention and quickly wrapped his right arm around Cannetti's neck, soon prompting the tap-out that ended things at 3:18 of the first.

It was Bautista's fourth straight win and sixth in eight UFC outings, while Cannetti lost for the sixth time in an octagonal run that began at UFC 180 in 2014.

Cormier was stunned at the veteran's lapse in concentration, but Bautista claimed it was more a product of circumstance than judgment.

"It was not a surprise. We do all our homework. I don't care how old you are or how many fights you have, we take you seriously," he said. "I don't think he liked that suplex. I think he knew if he got up, he'd be going back down, so he gave me the neck."

Bautista called for a Top 15 opponent for his next fight or, if that's not possible, made a specific request for Cody Garbrandt, who won on the prelim card at UFC 285 last week.
Winner: Calling for Cash
6 of 7
Chris Unger/Zuffa LLC via Getty Images

Vitor Petrino has the look of an "it" guy.

The Brazilian light heavyweight stands an imposing 6'2″ and arrived to the Octagon on Saturday with a pristine 7-0 record that included six finishes, none of which came past two rounds.

And given the output he produced—and the adversity he overcame—against Swedish export Anton Turkalj in the main-card opener, it may not be long before he's a familiar face.

The 25-year-old swept all three cards and earned a four-point margin on one of them but was hit by 69 strikes and taken down five times along the way. He spun out of several situations where Turkalj had taken his back, though, and ended the fight in an offensive position after slamming his foe to the ground to secure his seventh takedown.

It was an eventful debut for the Dana White's Contender Series alum, and he didn't hesitate in calling out to the UFC boss to fund his future progress.

"I'm so happy to have gotten this win," he said. "Hey, Dana White, let's make a deal. I put on a show for you, so you give me the [performance bonus] money.

"That way, I'll have more money, so I can get better and put on more shows for you."

Stay tuned.
Full Card Results
7 of 7
Chris Unger/Zuffa LLC via Getty Images

Main Card

Merab Dvalishvili def. Petr Yan by unanimous decision (50-45, 50-45, 50-45)

Alexander Volkov def. Alexandr Romanov by TKO (punches), 2:16, Round 1

Nikita Krylov def. Ryan Spann by submission (triangle choke), 3:38, Round 1

Jonathan Martinez def. Said Nurmagomedov by unanimous decision (29-28, 29-28, 29-28)

Mario Bautista def. Guido Cannetti by submission (rear-naked choke), 3:18, Round 1

Vitor Petrino def. Anton Turkalj by unanimous decision (30-26, 30-27, 30-27)

---

Preliminary Card

Karl Williams def. Lukasz Brzeski by unanimous decision (30-26, 30-26, 30-27)

Davey Grant def. Raphael Assuncao by submission (inverted triangle), 4:43, Round 3

Josh Fremd def. Sedriques Dumas by submission (guillotine choke), 3:00, Round 2

Victor Henry def. Tony Gravely by split decision (30-27, 29-28, 28-29)

Ariane Lipski def. JJ Aldrich by unanimous decision (30-27, 30-27, 30-27)

Bruno Silva def. Tyson Nam by submission (rear-naked choke), 1:23, Round 2

Carlston Harris def. Jared Gooden by unanimous decision (30-27, 30-27, 30-27)