The Real Winners and Losers From UFC on ESPN 43 | News, Scores, Highlights, Stats, and Rumors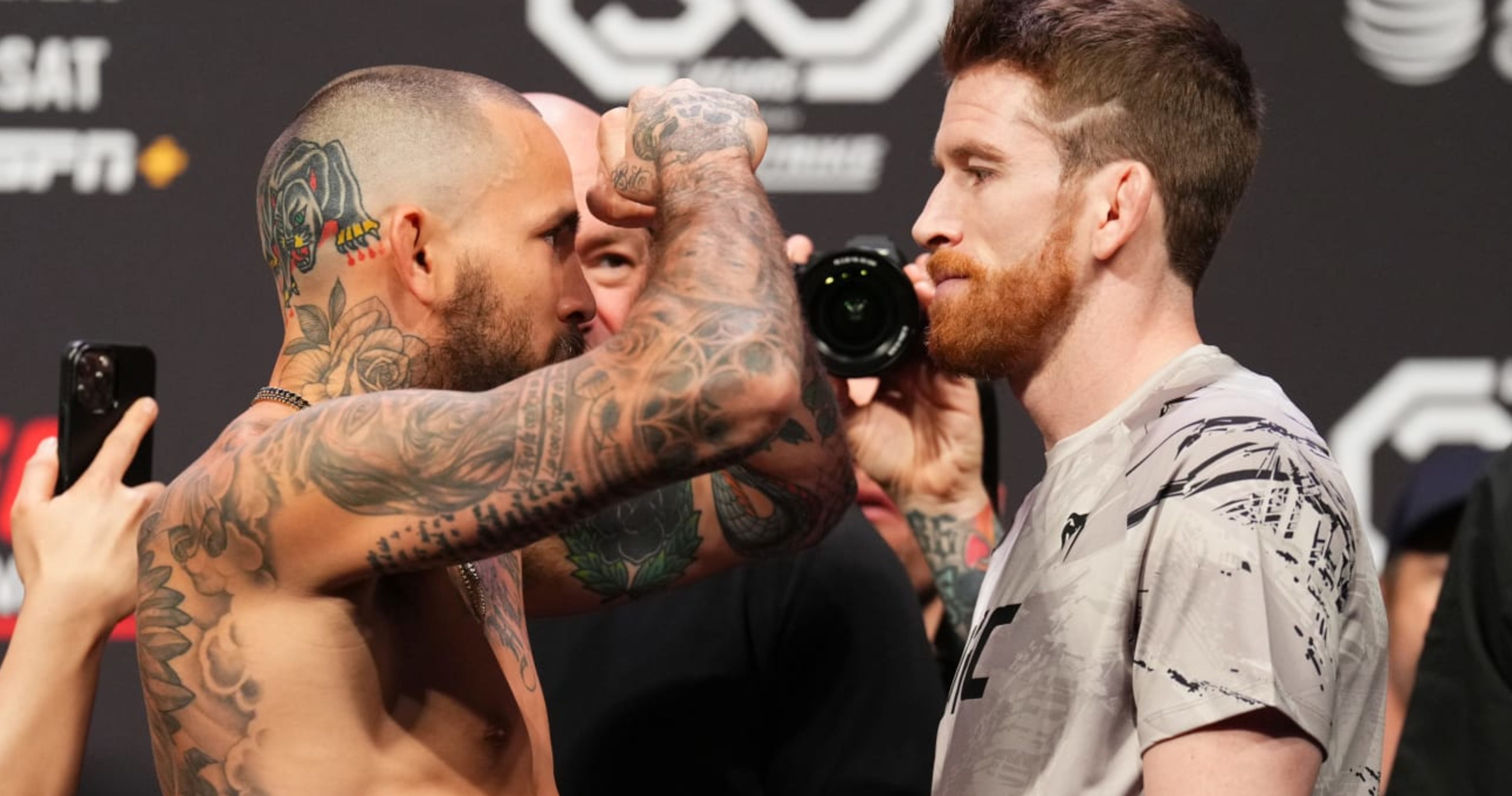 The Real Winners and Losers From UFC on ESPN 43
0 of 7
Josh Hedges/Zuffa LLC

It's certainly a busy sports weekend.

The NBA and NHL are in the heat of playoff races. MLB is in the final throes of spring-training preparation. And the NCAA men's and women's basketball tournament is flush with noteworthy upsets.

But the mixed martial arts world never sleeps.

The UFC carved out a Saturday night spot at the AT&T Center in San Antonio, Texas, and delivered a show that went live on ESPN amid the other television options.

Bantamweight contenders Marlon Vera and Cory Sandhagen were the main-event principals on a 10-bout card that shrunk from 13 when three fights—matching lightweights Manuel Torres and Trey Ogden, bantamweights Tamires Vidal and Hailey Cowan and flyweights Alex Perez and Manel Kape—were pulled from the schedule due to medical issues.

The B/R combat sports crew was in its weekend perch as well to take in the action and compile a definitive list of the evening's real winners and losers. Take a look at what we came up with, and drop a thought or two of your own in the comments.
Winner: Complex Sophistication
1 of 7
Josh Hedges/Zuffa LLC via Getty Images

Like it or not—and let's face it, fans of either Marlon Vera or blood-and-guts action probably didn't—Cory Sandhagen fought the perfect mixed martial arts fight.

He moved well. He changed stances. He succeeded with strikes. He scored takedowns.

He was, in the words of ESPN's Michael Bisping, both "complicated" and "sophisticated."

He was also successful.

The five-year veteran of the Octagon scored perhaps the most important victory of his eight-year career, mixing nearly every combat aspect across 25 minutes in securing a well-deserved decision win over his third-ranked opponent.

The No. 5 man at bantamweight won two cards by 50-45 and 49-46 counts—that's 5-0 and 4-1 in rounds, respectively—to offset a ridiculous 48-47 in Vera's favor that made it a split decision despite the winner's across-the-board statistical advantages.

B/R agreed with the verdict and had it 50-45 for Sandhagen, giving weight to his clear striking edges in each round, alongside his overall edge in takedowns (3-0) and the wide margin in control time (7:08 to 0:09) that it provided.

The win was his ninth in 12 UFC appearances and second in a row, and prompted him to call out No. 1 contender Merab Dvalishvili, who was seated at cageside.

"I want that No. 1 spot," he said. "Merab, you're hungry? Well, I got something for you to eat, and it don't taste good."

For Vera, the loss ended a four-fight win streak and left him at 14-7 in the UFC.

But in spite of the strange judging, he made no post-fight claim to a victory.

"I was as ready as I can get," he said. "I just couldn't get it started. No excuses."
Winner: Still Aging Gracefully
2 of 7
Josh Hedges/Zuffa LLC via Getty Images

Some fighters are 41 years old. But they don't all look 41 years old.

Count Holly Holm as part of the second group.

The Hall of Fame boxer and author of perhaps the UFC's signature upset—against Ronda Rousey in 2015—looked as relevant as someone a decade or more younger in securing her first victory in more than two years in Saturday's co-main event.

Holm dominated former training partner and sixth-ranked bantamweight contender Yana Santos across three rounds, earning shutouts from all three judges after a 15-minute rout in which she not only displayed expert striking but also a much-improved ground game.

She scored the fight's lone four takedowns, established nearly 10 full minutes of control time and briefly chased what would have been her first career finish by submission with a rear-naked choke in the final moments of the last round.

"I'm always trying to come up with something new," she said. "I'm happy to be back feeling good. It's been a little while."

Indeed, Holm had won just four of 10 fights since the shocker against Rousey at UFC 193, losing four subsequent title bouts as well as a Fight Night main event to Ketlen Vieira in her most recent appearance last May. Nevertheless, she was still ranked third at bantamweight heading into the Santos fight and claims another title reign is her objective.

The win was her seventh at bantamweight, tied for third in the division's history.

"I'll just work hard. Keep working hard," Holm said. "Whatever they hand me. I like to be ready for whomever. Always prepared."
Loser: Making Scoring Sense
3 of 7
Josh Hedges/Zuffa LLC via Getty Images

Sometimes, you've just got to scratch your head.

At times, it's at the mettle it takes for athletes to actually climb stairs and get into a locked cage with a person being paid to inflict damage on them. And at times, it's at what the paid officials sitting just outside the fence are thinking when they judge it.

The main-card scrap between flyweights Andrea Lee and Maycee Barber was both.

The 11th- and 13th-ranked fighters in their division squared off in an intermittently compelling match in which one principal (Barber) aimed to succeed with aggression while the other (Lee) was content to counter that aggression with well-timed grappling work.

By the time 15 minutes elapsed and Barber had never really strung together a series of anything resembling significant consequence, it seemed academic that Lee's 100 percent (5-of-5) takedown rate and better than five minutes of ground time would tip the scales.

Until it didn't.

Instead, though Lee got Barber to the floor in each round and stayed within five significant strikes of her in every session as well, one judge saw Barber as a shutout winner, and another gave Barber two of three—enough to lock in a surprising, if not exactly felonious, split decision.

Barber got nods 30-27 and 29-28 compared to a single 29-28 score for Lee, who raised her opponent's hand when the announcement was made before turning and walking straight out of the cage amid audible boos from her home-state crowd.

B/R also had it 29-28 for Lee and would have leaned closer to a shutout in her direction before swapping a round to see Barber a one-point winner.

Barber had a 49-38 edge in significant strikes and a 66-57 advantage in overall strikes, compared to Lee's 5-2 bulge in takedowns and 5:20 to 0:45 margin in control time.

"That's a decision that's going to generate some controversy," ESPN's Brendan Fitzgerald said.
Winner: A Cowboy Surprise
4 of 7
Josh Hedges/Zuffa LLC via Getty Images

It's no surprise Donald Cerrone would be Hall of Fame material.

The Cowboy still ranks among the UFC's all-time leaders in fights, wins, finishes and performance bonuses, even eight months after his last appearance and nearly four years since his last victory.

But there's one thing to deserve it and another to know it's coming.

The nearly 40-year-old—he'll celebrate a birthday on Wednesday—was sitting cageside Saturday night when ESPN's Fitzgerald went live on the arena's P.A. system to back the highlight reel playing on the in-house screens.

The clips were strung with testimonials from past rivals and opponents, each of whom lauded the 55-fight veteran for his authenticity and toughness. And at the end, it was announced that Cerrone would be part of the class inducted in July during the promotion's annual International Fight Week event in Las Vegas.

"I think of the success I had in the UFC, and so much of it is attributed to that man," said ESPN analyst Paul Felder, a former Cerrone training partner and lightweight contender. "He fought for me to get fights that I had no business getting.

"He's the truest fighter I've ever met in this organization."

Cerrone tipped his hat to the crowd during a standing ovation and seemed genuinely moved when his wife and three sons came out from backstage to share the moment.

"They just don't make them like they used to. And never has that phrase been truer," ESPN's Bisping said. "Sometimes, he won. Sometimes, he lost. But he showed up each and every time."
Loser: A Storybook Ending
5 of 7
Josh Hedges/Zuffa LLC via Getty Images

Steven Peterson was never a main-event fighter.

Now 32, he debuted at age 20, performed in multiple promotions and wound up below .500 in a UFC run that began with a loss on the first season of Dana White's Contender Series.

He was still a preliminary card commodity on Saturday night and didn't find much success against Brazilian prospect Lucas Alexander. He did make the appearance memorable after a unanimous decision loss was announced—shedding his gloves and dropping them in the center of the cage as a universal sign of retirement.

"I put my heart, my dreams into this cage. I left everything out there," he told ESPN's Bisping. "I'm only 32, but this is a young man's sport. These kids, they're amazing athletes. I feel like I've had a helluva career, and I'm happy to be able to put my gloves down here in Texas."

Indeed, the California-born featherweight is now based in Plano—about 300 miles north of San Antonio—and he suggested that he'll now get into coaching and promoting. He also put his name in the hat for an announce table gig if one opens up.

"I'm putting my heart into these young kids," he said before encouraging the crowd. "Chase your dreams. Never give up. When your time has time come, you will know it. Mine came tonight, and now I'm on to bigger, better things."
Winner: Working the Crowd
6 of 7
Cooper Neill/Zuffa LLC via Getty Images

Flyweight CJ Vergara was in deep trouble.

He'd been decked twice by kicks, rattled by punches and found himself on the wrong end of a rear-naked choke attempt by opponent Daniel Lacerda, all in the first round.

And had the beating been happening anywhere other than his hometown, it might not have ended well for the 31-year-old muay thai ace.

But it was in San Antonio. And the local hero was not ready to yield.

Instead, he emerged competitively for the second round, handled another volley of strikes from his uber-aggressive foe and wound up turning that aggression against him.

Vergara pounced when a gas-compromised Lacerda dove in for a takedown that he couldn't secure. Vergara began landing strikes of his own and chased a finish with an arm triangle before ultimately getting it with a follow-up barrage of elbows and punches.

Lacerda was left kneeling in the center of the cage with his head in his hands while a jubilant Vergara immediately scaled the fence and drank in the loud post-redemption approval.

"I was really hurt in the first round and [thrilled] to come back and bring it back the way that I did," he said. "For a brief second, I thought, 'Damn, this is it,' and I decided I was just going to try and swing back and just go out swinging. But my IQ came in and just said, 'No, evade, evade, evade.' Then my corner told me in between rounds that he was done."
Full Card Results
7 of 7
Josh Hedges/Zuffa LLC via Getty Images

Main Card

Cory Sandhagen def. Marlon Vera by split decision (47-48, 50-45, 49-46)

Holly Holm def. Yana Santos by unanimous decision (30-26, 30-27, 30-27)

Nate Landwehr def. Austin Lingo by submission (rear-naked choke), 4:11, Round 2

Maycee Barber def. Andrea Lee by split decision (28-29, 29-28, 30-27)

Albert Duraev def. Chidi Njokuani by split decision (28-29, 29-28, 29-28)

Daniel Pineda def. Tucker Lutz by submission (guillotine choke), 2:50, Round 2

---

Preliminary Card

Lucas Alexander def. Steven Peterson by unanimous decision (30-27, 30-27, 30-27)

Trevin Giles def. Preston Parsons by split decision (29-28, 28-29, 29-28)

CJ Vergara def. Daniel Lacerda by KO (elbows), 4:04, Round 2

Victor Altamirano def. Vinicius Salvador by unanimous decision (29-28, 29-28, 29-28)