UFC 285 Predictions: Bleacher Report Main Card Staff Picks | News, Scores, Highlights, Stats, and Rumors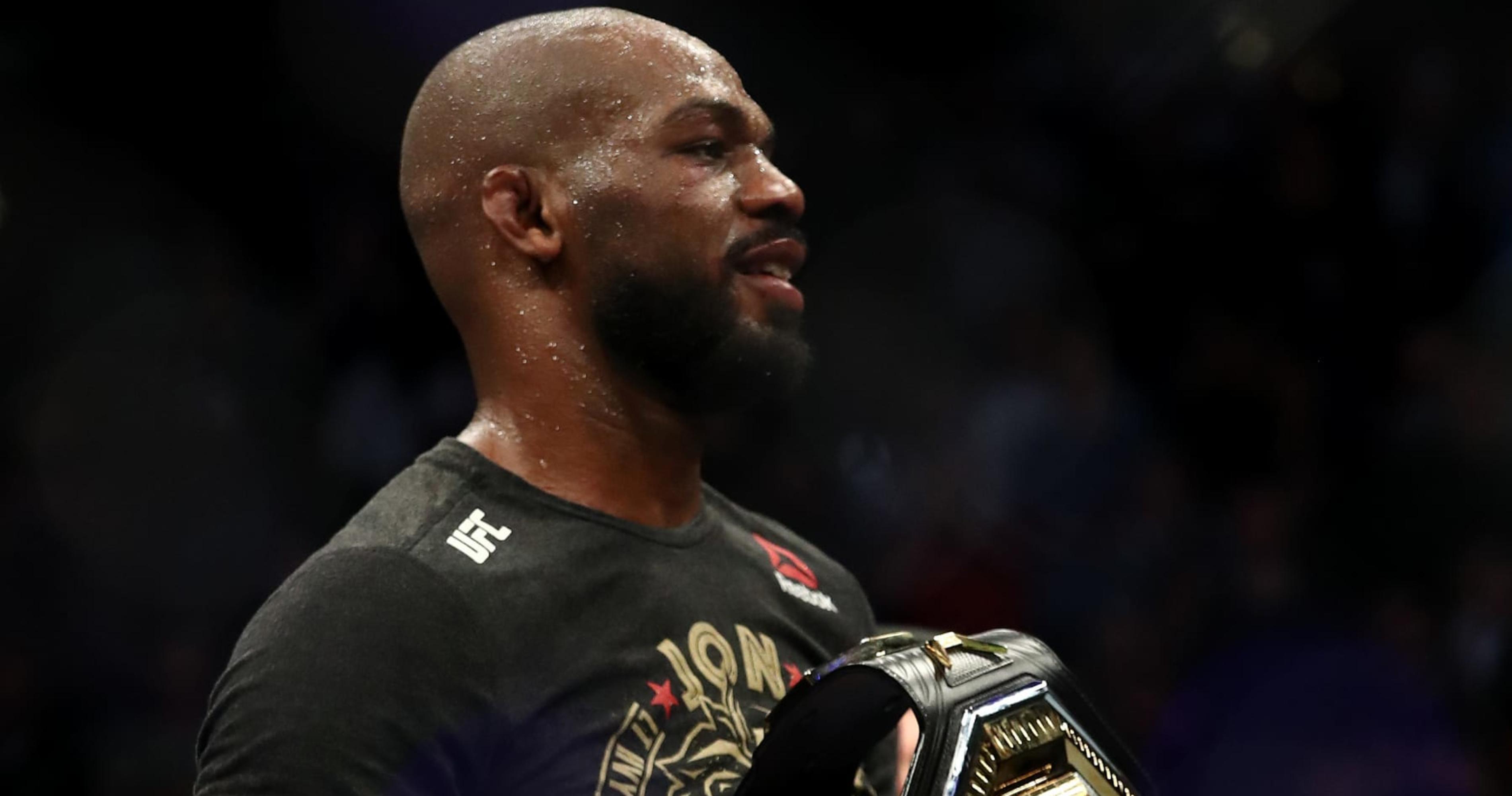 UFC 285 Predictions: Bleacher Report Main Card Staff Picks
0 of 5
Jon JonesRonald Martinez/Getty Images

It's finally happening.

This Saturday, in the main event of UFC 285 in Las Vegas, former light heavyweight champion Jon Jones will debut in the heavyweight division, taking on former interim champion Ciryl Gane. It's a move fans have been dying to see Jones make since the earliest days of his incredible reign as the light heavyweight champion but one that has taken years of talk and negotiation to make happen.

Despite his reputation as one of the best ever, Jones faces an undeniably tricky test in his heavyweight debut. Gane is considered the division's most technical striker—no surprise given his background in muay thai—and he has the size, power and cardio to back that skill set up. It's an endlessly compelling fight, and it's made all the more intriguing by the fact that it will be Jones' first Octagon appearance since a close decision win over Dominick Reyes in early 2020.

That's not all fans have to look forward to at UFC 285.

In the co-main event, dominating flyweight champion Valentina Shevchenko will look to defend her belt against boxing specialist Alexa Grasso, part of a new generation of contenders that many doubt the champion will survive.

Earlier in the night, unbeaten welterweight contender Shavkat Rakhmonov will look to burst into title contention at the expense of knockout puncher Geoff Neal, while former KSW champ Mateusz Gamrot is also set to return to action against Jalin Turner.

Before any of that gets underway, highly regarded middleweight prospect Bo Nickal—a decorated collegiate wrestler—will make his UFC debut against hot-and-cold veteran Jamie Pickett.

The card is packed with competitive-looking matchups and the possibility for some pretty massive upsets.

Keep scrolling to see how the B/R combat sports squad sees it all going down.
Jon Jones vs. Ciryl Gane
1 of 5
Ciryl GaneJULIEN DE ROSA/AFP via Getty Images

Haris Kruskic: Two trains of thought: Jon Jones is, in my opinion, the greatest MMA fighter we've seen. He is also significantly more well-rounded than Ciryl Gane, and that suits Jones in his heavyweight debut.

However, it is his heavyweight debut, and he hasn't fought in three years. How will he react to getting hit by his biggest opponent yet, who also happens to be the most technical striker in the division? Matchups like this are why MMA is awesome. There are so many ways it could go.

I'm taking Jones. Francis Ngannou opened the playbook on how to beat Gane, and he isn't near the wrestler that Jones is. If he can avoid standing in the Frenchman's range and secure an early takedown, it could be a quick night and yet another accolade added to Jones' already incredible résumé.

Jones by submission, Rd. 2

---

Tom Taylor: I, like most fight fans, have wanted to see Jones fight at heavyweight for most of the last decade. In fact, I've been waiting so long that his Saturday debut in the division opposite Gane seems surreal. After so much fruitless talk, it's hard to believe this is actually happening.

It would be cool to see Jones become a two-division champion, and several years ago, I would have been totally confident in his chances. But there are just too many reasons to doubt him now: the razor-close wins over Thiago Santos and Dominick Reyes, his age, his long lay-off. Maybe he is the greatest of all time, but there is so much for him to overcome in this fight with Gane, who is big, dangerous, and, most importantly, active.

I know I'll be in the minority here, but I see Jones' heavyweight debut ending in one heck of a shock. Gane catches him and doesn't relent till it's over.

Gane by TKO, Rd. 2

---

Lyle Fitzsimmons: Here, I thought I'd be the only one. Make no mistake, I agree with everything written about Jones and his all-time legacy. He's as good as there's been. But I believe Gane's a special heavyweight. And, as Tom suggested, I think he'll catch Jones with a decisive shot before Jones can get it to the floor. Inactivity matters. Quality opposition matters. New weight classes matter. Put it all together, and it's an upset.

Of course, if Jones locks him up and ends it in one himself, we never had this conversation.

Gane by KO, Rd. 1
Valentina Shevchenko vs. Alexa Grasso
2 of 5
Valentina ShevchenkoJeff Bottari/Zuffa LLC

Haris Kruskic: Shevchenko is going to lose her title at some point, and it could happen sooner rather than later, given the depth of the women's flyweight division (looking at you, Erin Blanchfield, Manon Fiorot and Taila Santos).

I just don't think it will be Alexa Grasso who makes it happen. Her boxing is good, but nothing that Shevchenko hasn't seen before. It's going to take more to knock off an all-time great.

Shevchenko by unanimous decision

---

Tom Taylor: I have been telling anyone who will listen that I think UFC flyweight champ Shevchenko is going to lose her title this year. Like Haris said, there are just too many new and dangerous contenders circling her throne. I can't see her beating all of them.

That being said, I think she'll get by her UFC 285 challenger. Grasso is probably my favorite flyweight in the UFC. Her boxing makes her a ton of fun to watch. Yet she is not exactly a world-class wrestler, and I think wrestling is ultimately what's going to beat the champ.

It will hopefully be competitive, but Shevchenko does enough to retain her belt.

Shevchenko by unanimous decision

---

Lyle Fitzsimmons: Shevchenko may lose. She may indeed lose in 2023. But it won't be Grasso, and it won't be this weekend. Personally, I'm anticipating Erin Blanchfield giving the champion a big push in the near future. It'll be shocking whenever it happens, but it'll be a stone-cold shocker if it happens now.

Shevchenko by KO, Rd. 2
Geoff Neal vs. Shavkat Rakhmonov
3 of 5
Shavkat Rakhmonov punches Neil MagnyJeff Bottari/Zuffa LLC

Haris Kruskic: Rakhmonov has run through everyone he's fought, and I don't expect that to change. Geoff Neal is no easy opponent, but he's striking-heavy, and Rakhmonov simply won't let it turn into that kind of fight if things get dodgy standing up. He dictates fights as all championship-level fighters do, and the Nomad will propel himself into the title conversation after Saturday.

Rakhmonov by submission, Rd. 2

---

Tom Taylor: Neal is probably the most dangerous puncher Rakhmonov has fought to date, but I'm not sure if he's actually a tougher test than Neil Magny, who the undefeated Kazakh contender cut through in his last fight.

One way or the other, I think Rakhmonov passes this one with flying colors. He'll need to be careful on the feet—he tends to leave his chin exposed, and Neal has serious firepower—but it will probably only be a matter of time before he drags this one to the mat and ends it.

I'm with Haris.

Rakhmonov by submission, Rd. 2

---

Lyle Fitzsimmons: Someone's got to the contrarian here, right? Though I concede to my fellow forecasters that Rakhmonov has been a force since arriving in the UFC in 2020, it feels like a pretty big step to get to the No. 7 welterweight. Someone's got to touch that chin at some point, and I say here that it'll be Neal.

Neal by TKO, Rd. 3
Mateusz Gamrot vs. Jalin Turner
4 of 5
Mateusz Gamrot punches Beneil Dariush.Chris Unger/Zuffa LLC

Haris Kruskic: This is a massive step up for Jalin Turner. Mateusz Gamrot is one of the most technical fighters in the lightweight division and only loses to opponents just as technical as him. Turner has huge power and a strong grappling arsenal, but I worry that his inexperience against top contenders won't translate well against Gamrot, who's comfortable wherever a fight may take him.

Gamrot by unanimous decision

---

Tom Taylor: I've got Gamrot in this one. Turner is a ton of fun to watch, and I can see him getting pretty close to the lightweight title before his career is out, but styles make fights, as they say, and I think Gamrot has the right style to win this one. Takedowns and control time seal the deal for the former KSW champ.

I'm with Haris—again.

Gamrot by unanimous decision

---

Lyle Fitzsimmons: Win, lose or draw, this one should be fun. Gamrot has three performance bonuses across his last four victories since 2021. Turner, meanwhile, has won five straight fights—including a 45-second choke-out of Brad Riddell last July that netted him his own bonus. It gets to the floor, and he finds a finish.

Turner by submission, Rd. 2
Bo Nickal vs. Jamie Pickett
5 of 5
Bo NickalChris Unger/Zuffa LLC

Haris Kruskic: It's Bo time.

Nickal by Submission, Rd. 1

---

Tom Taylor: I'm not on the Bo Nickal hype train. I'm still a dozen or so stations down the track, sitting on a bench at a quiet junction where reason still applies, and we don't tout unproven prospects as future UFC champions before they've even stepped foot in the Octagon.

I also know a freebie when I see one, and that's exactly what Nickal has in front of him this Saturday. Pickett is 2-4 in the UFC, 13-8 overall, and he's been finished in five of his losses. I'm sure he's a hard-working and talented guy, but he's being brought in to make Nickal look good, and he's going to do it.

Nickal by TKO, Rd. 1

---

Lyle Fitzsimmons: Pickett has a role on this card. In old-school wrestling terminology, he's being paid to get Nickal over. He's been finished three times in the last two years and hasn't lasted 10 minutes in any of them. The moral of the story? If you can't beat Jordan Wright, Kyle Daukaus or Denis Tiuliulin, you'll lose here.

Nickal by KO, Rd. 1